Most Impressive Architectural Masterpieces by Paul Andreu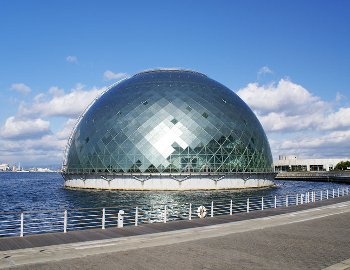 About the Architect
Paul Andreu (born 1938) is a French architect who is most famous for constructing and planning of a number of airports worldwide including the Soekarno-Hatta International Airport in Jakarta, Shanghai Pudong International Airport, Ninoy Aquino International Airport in Manila, Brunei International Airport, Cairo International Airport and many others. Since 1967, he has also been chief of construction and planning of the Charles de Gaulle Airport in Paris.
Andreu graduated from Ecole Polytechnique in 1958.
Most Impressive Works
In addition to constructing and planning airports, Andreu has also been involved in other architectural projects which demonstrate his architectural ingenuity. Some of the most impressive architectural masterpieces by the renowned French architect include:
Grande Arche, Paris
The 110 metres high and 108 metres wide Grande Arche was commissioned in the early 1980s on the initiative of President Mitterrand. The design competition was won by architect Johann Otto von Spreckelsen and engineer Erik Reitzel who began to construct their vision of the 20th century Arc de Triomphe in 1985. Spreckelsen, however, resigned one year later and left over the architectural part of the Grande Arche to Andreu completed it together with Reitzel in 1989.
National Grand Theatre of China, Beijing
In 2001, Andreu was commissioned to design the National Grand Theatre of China. The spectacular Theatre which is also popularly called the Giant Egg was completed in 2007. Its location, most notably its proximity to the Tiananmen Square, the Forbidden City and the Great Hall of the People, however, caused a controversy. Andreu defended his architectural masterpiece, arguing that Beijing also needs modern buildings and that his design which includes water, trees and large open space complements the existing architecture in the Chinese capital.
Osaka Maritime Museum, Japan
Shortly before starting to work on the design of the National Grand Theatre of China, Andreu was hired to design the Osaka Maritime Museum in Japan (engineering was entrusted to Arup and Tohata). The construction of the museum with a large dome which is creating an illusion of rising from the sea was completed in just two years as it was built from 1998 to 2000. The building also received the Institution of Structural Engineers' 2002 Structural Special Award for its ability to withstand wind, waves and earthquakes.