Greatest Masterpieces by Santiago Calatrava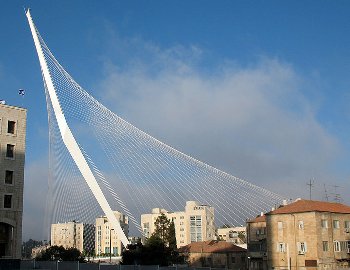 About the Architect
Santiago Calatrava (born 1951) is a Spanish architect, structural engineer and sculptor who rose to international prominence after a series of bridge projects, starting from a bridge for the 1992 Summer Olympic Games in Barcelona.
Calatrava was born in Benimamet (today a part of Valencia), Spain. He graduated from architecture at the Polytechnic University of Valencia in 1975. He then continued education at the Swiss Federal Institute of Technology in Zurich. In 1981, he received doctorate and shortly thereafter started his own architectural and engineering practice.
Greatest Masterpieces
Since the early 1980s, Calatrava has designed a number of iconic buildings and structures throughout the world with many of them being considered works of art. Perhaps the most impressive Calatrava's projects include:
Alamillo Bridge, Seville, Spain
The Alamillo Bridge (Spanish: Puente del Alamillo) is a cantilever spar cable-stayed bridge, the first example of this variation of cable-stayed bridge in the world. The bridge which connects the city with an island between the Canal de Alfonso XIII and the Guadalquivir River was built for the Expo 92 that was held on the very same island. One of Calatrava's greatest masterpieces, however, has also caused a controversy concerning the actual need for the supporting mast and cables. In 1995, he designed a similar cantilever spar cable-stayed bridge on the River Irwell, connecting Manchester and Salford.
Auditorio de Tenerife "Adan Martin", Canary Islands
Perhaps the most famous design by Calatrava and one of the most recognisable landmarks of the island of Tenerife is also considered as one of the finest works of late 20th century Spanish architecture. The auditorium that was built between 1997 and 2003 was also included in a series of 5 Euro commemorative coins and a set of six stamps representing the finest examples of Spanish architecture.
Quadracci Pavilion (Milwaukee Art Museum), Milwaukee, Wisconsin
Milwaukee art museum that hosts a collection of more than 30,000 artworks and attracts over 350,000 art lovers each year consists of three building of which one – the Quadracci Pavilion – was designed by the famous Spanish architect. He also designed the so-called Reiman Bridge which connects the Quadracci Pavilion with down-town Milwaukee. Other two buildings were designed by Eero Saarinen (the War Memorial Center; 1957) and David Kahler (the Kahler Building; 1975). The Quadracci Pavilion which was built in 2001 was Calatrava's first project in the United States.